By Breno Menini
When Suma finally arrived in Berlin, after fleeing Egypt because of persecution for her gender identity, she was confronted with a reality that many LGBTIQA+ migrants live with when they gain asylum in a European country: precarious health and psychological care. "Many of us throughout our lives end up developing PTSD (post-traumatic stress disorder) and need psychological help when we arrive in the country where we will start our new lives, but the health coverage we have access to is limited and does not cover those services. I also did not have access to the hormones I needed to continue taking because of my transition," said Suma Abdelsamie, a transgender woman and consultant for the Emantes Social Cooperative, during her participation in the "Summit on Refugees, Borders and Immigration" held in Malmo, Sweden, on August 20.
The event, which was part of the "Copenhagen 2021 WorldPride and EuroGames" celebration held simultaneously in the cities of Copenhagen (Denmark) and Malmo (Sweden), brought together activists, politicians and civil society to discuss the needs and vulnerabilities of LGBTIQA+ refugees in search of possible solutions to the problems faced during displacement, routes, arrival in the destination country, the asylum application process and resettlement.
In addition to the limited healthcare that Suma Abdelsamie calls for, another issue discussed at the conference that made a big impact was the lack of security that plagues LGBTIQA+ migrants during the migration process, i.e. when they are already in transit to another country.
Artist and activist Gio, forced to leave his country because of homophobic attacks in Libya, revealed during his testimony how he was arrested and then raped by touching intimate areas of his body without his consent as part of a "medical examination" in Tunisia, the transitional country he passed through before being transferred to Germany, where he had been granted asylum as part of one of the migration programs of the United Nations High Commissioner for Refugees (UNHCR). Separated from his partner who gained asylum in France, he called on civil society to engage in discussions and not close its eyes to the problems of LGBTIQA+ migrants. "If you are in a position of privilege, do something," claimed Gio. 
The situation described by Gio is the same one in which many other migrants who are forced to leave their countries find themselves. According to UNHCR, the majority of refugees (73%) lived in countries neighboring their countries of origin, reinforcing the idea that there is first a migratory flow of proximity. The problem for LGBTIQA+ migrants is that many of the neighboring countries also condemn or persecute people based on their gender or sexual identities, thus constituting an unsafe place and initiating a second phase of aggression, stigma and persecution of this most vulnerable and marginalized group of the migrant collective.
For the director of the European Union Agency for Fundamental Rights, Michael O'Flaherty, the challenge lies in the fact that many of the protocols for the reception of migrants and people forced to move are not up to date and are not able to take into account the needs of LGBTIQA+ people. He highlights that often the practice in reality is very different from the theory. "In law we are good. It's a question of practice, of how the laws are applied. There are loopholes and outdated guidelines," Michael says.
"From ACATHI, we raise the need to generate instruments such as humanitarian visas for the safe access of LGBTIQA+ applicants for international protection. Along with this, we need to recognize in practice the specific needs of LGBTIQA+ people in reception, and train all the agents involved in their care. There are multiple needs that show differences in the application of reception according to the country and even the region of arrival. It is necessary to include leisure in inclusion strategies," explains Rodrigo Araneda, psychologist and president of ACATHI.
Patrick Dörr, activist and participant in the Queer Refugees project, explains that there are four major barriers when discussing the protection of LGBTIQA+ refugees, migrants or asylum seekers. "First there is the lack of specialized and independent advice. Then the embarrassment and fear the applicant has during the asylum interview. Followed by the lack of knowledge, generalized heteronormativity and stereotypes among interviewers and judges. And finally the existence of hostile environments to LGBTIQA+ people in collective housing".
Translated with www.DeepL.com/Translator (free version)
More than 70 countries still outlaw same-sex relations and at least six, including Yemen, Somalia, Mauritania, Iran, Afghanistan and Pakistan, have the death penalty.
COPENHAGEN 2021 WORLDPRIDE AND EUROGAMES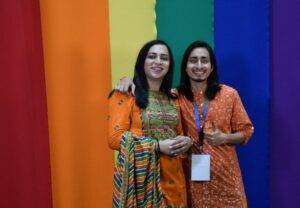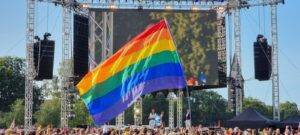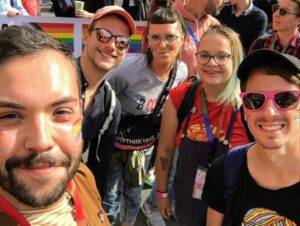 This August, tens of thousands of people joined more than 1,100 events in Copenhagen and Malmö during the ten-day "Copenhagen 2021 WorldPride and EuroGames" celebration, which featured an eclectic program of arts and culture and an LGBTIQA+ human rights forum.
Highlights included the participation of 2,000 athletes who competed in 22 sports tournaments at locations in both cities; and the presence of more than 10,000 people who joined six different "Pride Marches" in Copenhagen.
The program included arts and cultural events such as the "Fluid Festival," organized to embrace fluidity within gender identity, expression and sexuality, and the "Rainbow Children @ BLOX," a space created to break down the binary in a playful way for children and their families.
HUMAN RIGHTS FORUM
An important part of the Copenhagen 2021 WorldPride and EuroGames programming, the Human Rights Forum took place from Monday, August 16 to Saturday, August 21 and comprised six events focused on different aspects of LGBTIQA+ equality and human rights around the world. 
The opening ceremony in Copenhagen was attended by Her Royal Highness Princess Mary of Denmark, Michelle Bachelet, UN Under-Secretary-General and UN High Commissioner for Human Rights and Dr. Natalia Kanem, UN Under-Secretary-General and Executive Director, United Nations Population Fund (UNFPA) among other guests.
The event was followed by a Human Rights Conference held over the next three days, the Summit on Refugees, Borders and Immigration, and a meeting of parliamentarians from different countries at the Danish Parliament. Organized around ten thematic axes, the Forum aimed to set the agenda for the promotion of global LGBTI+ equality over the next decade.
"It was a great experience," says Mertkan Gacaroğlu, founder of NGO ÜniKuir and Turkish activist who participated in the conferences and recognizes the importance of creating a safe space for activists and legislators to meet and discuss the situations faced by LGBTIQA+ people.  "It was a wonderful opportunity to listen to each other, pay attention to human rights issues around the world, connect face-to-face and build networks of support, considering the ongoing global crisis of the COVID-19 pandemic for 18 months," says Mertkan.
For Jannat Ali, a Pakistani transgender activist and artist, being a voice for members of communities who never had the opportunity to attend such an event and speak about inclusion, diversity and the Pride history of her hostile country has been an amazing experience. "The debate and networking during the discussions during the forum made me realize that I am not alone and I came back with more enthusiasm and new promises to strengthen our Pride movement in Pakistan," reveals the activist.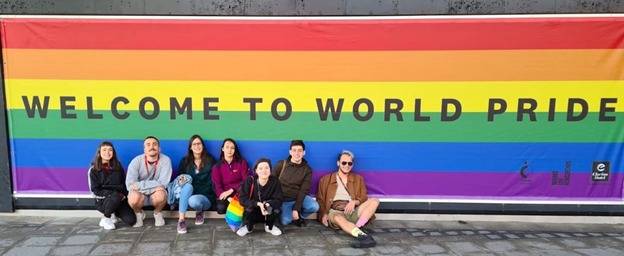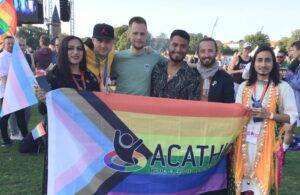 "Events like World Pride and the Human Rights Forum give activists like us, who organized the Hungarian Pride March, the opportunity to learn and gain motivation to continue working against the current anti-LGBTIQA+ political era in which we live," comments Máté Hegedűs, a member of the Budapest Pride collective (Rainbow Mission Foundation).  Máté acknowledges that she was able to participate in the forum and celebrations in Copenhagen thanks to her privileges and is committed to spreading the motivation and enthusiasm to other corners of her country. "Now my goal is to provide similar opportunities to my fellow LGBTIQA+ Hungarians. For this reason, we are organizing a conference for LGBTIQA+ people outside Budapest so that we can also make their voice heard," the activist promises.